Single 7 Pin Electrics (12N)
This socket has been used in the United Kingdom for many years. It is the most cost effective and common type of connection providing all the standard towing requirements.
The 12n single electrics sockets can be used with many towing accessory's including:
Twin 7 Pin Electrics (12s)
The 12S connector provides additional power functions when combined with the 7 pin 12N socket. This connector offers permanent and switched power supplies and reverse lighting functionality. It can be identified by a grey or white flip cover.
The permanent supply provides power to the interior lights and water pump when the vehicle is turned off. When the vehicle is running, the switched supply provides power to the caravans leisure battery and fridge. The 12S socket can also be used with horse boxes containing internal batteries or tipper trailers with electric lifts.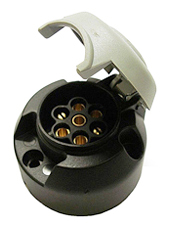 13 Pin Continental Electrics
The 13 pin socket is a single connection of similar size to a 7 pin connector but contains both 12N and 12S socket functions. It is a sealed connection with a unique twist and lock system that provides a secure and reliable connection.
All caravans manufactured for the 2009 season onwards have 13 pin connections as standard. The trailer industry will be moving towards 13 pin plugs by 2012. 13 pin sockets are expected to become industry standard. Some cycle carriers from the likes of Thule are already using 13 pin plugs.
7 Pin Plugs to 13 Pin Socket
13 Pin Plug to 7 Pin Socket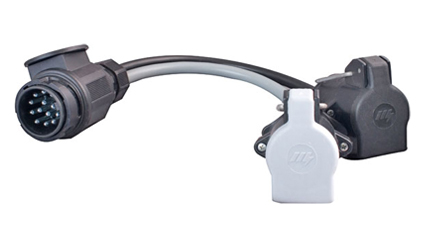 7 Pin Plug to 13 Pin Socket